The FAA's regulatory and air traffic control functions are carried out in approximately 1,000 staffed facilities throughout the United States, Puerto Rico, Virgin Islands, Guam, American Samoa, Saipan and the Marshall Islands. We also maintain approximately 60,000 operational facilities in the National Airspace System (NAS). To provide air traffic control and regulatory functions, we rely on equipment, systems, supplies, services, and construction provided by commercial, educational, and non-profit businesses, organizations, and individuals.
Contracting Organizations
The FAA's contracting activities are managed by a headquarters office, two centers, and three service areas with eight region offices.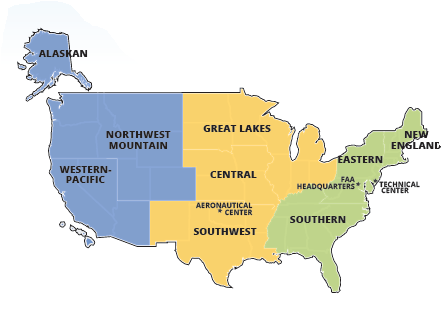 The Washington, DC Headquarters is responsible for FAA-wide program planning, direction, oversight and evaluation. Most national-level systems and equipment acquisitions, and research and development (R&D), are awarded by Headquarters. Examples of acquisitions include systems and equipment for satellite-based navigation, voice and data communications, radar networks, navigation and landing aids, air traffic management, computer networks, and telecommunication services. To support national-level programs, Headquarters also awards contracts for services such as systems engineering, information security, and other specialized fields in which FAA does not have in-house expertise. Day-to-day operating supplies are purchased throughout Headquarters. FAA's R&D contracts range from applied research to demonstrations and testing of new hardware and software. Research studies cover subjects such as automating terminal and en route air traffic control, weather research, and allocating airspace to prevent collisions and improve efficiency. The hardware portion of the R&D program includes experimental equipment in communications, radar, navigational aids, and test equipment.
FAA's Eastern, Central, and Western Service Areas are responsible for supporting FAA operations across all service areas. Contracted work includes architect-engineering and construction for projects such as air traffic control towers and base buildings, installing navigation and landing aids, building access roads, maintenance for facilities, and emergency preparedness. Service Areas also buy operating supplies for their regions and support emergency repairs to facilities.
The Mike Monroney Aeronautical Center, Oklahoma City, OK, manages a variety of key contracting functions for FAA, including logistics support for the NAS, flight inspection fleet support, operational and management training, medical research, accounting services, and information technology. Contracts include spare parts, support systems, and services needed to maintain navigation and communications equipment in the NAS; training for technicians, and flight inspection pilots; maintenance and supply support for the NAS and Flight Inspection Fleet of aircraft; specialized support for medical research; operation of data centers and computer networks; and Center facilities support for day-to-day operations.
The William J. Hughes Technical Center, Atlantic City, NJ, is the national scientific test base for FAA's research, development and acquisition programs. The Technical Center's activities involve test and evaluation in air traffic control, communications, navigation, airports and aircraft safety, and security. Activities include long-range development of innovative systems and concepts, development of new equipment and software and in-service engineering of modifications to existing systems.
CONTRACTING METHODS
RECEIVE A PRIME CONTRACT. The direct way to do business with us is through a contract between your firm and FAA. The FAA, along with organizations within the federal government, publish contract opportunities and related announcements on the SAM.gov website. Anyone interested in doing business with the FAA can use this system to research active opportunities.
RECEIVE A SUBCONTRACT FROM AN FAA PRIME CONTRACTOR OR ANOTHER SUBCONTRACTOR. Many of our larger contracts allow or need support from subcontractors. You should market your capabilities to other vendors who might have subcontracting opportunities. Usually firms arrange subcontractor agreements before submitting offers to the FAA. We do not designate specific firms for subcontracting in our announcements because the successful offeror is responsible for and selects its own subcontractors. In larger dollar value procurements, we require the contractor to select subcontractors competitively, and when appropriate to submit a subcontracting plan for our approval before award. You can get information about contracts with potential subcontracting opportunities from announcements on the FAA Contract Opportunities website or from individual Contracting Officers listed in the announcement. View the FAA's Subcontracting Directory.
BECOME A PRIME OR SUBCONTRACTOR TO ANOTHER GOVERNMENT AGENCY AND RECEIVE A CONTRACT THROUGH AN INTERAGENCY AGREEMENT. We sometimes obtain products and services from or through other Government agencies through "interagency agreements." We do this because another agency may already have a contract with a vendor doing the type of work that meets our needs. Informing FAA about your activities with other Government agencies could result in business for you through the other agency's contract. If you are planning to approach us with this in mind, you should first inform the agency with whom you have the agreement.
TEAM WITH ANOTHER FIRM ON A CONTRACT. Two or more companies may form a team to submit an offer on a contract. The team can be set up as a partnership or joint venture, or as a prime with one or more subcontractors. Companies normally make such arrangements before submitting an offer. Teams of contractors may be desirable from both ours and industry's standpoint if the companies complement each other's unique capabilities. Teaming is particularly appropriate in complex research and development acquisitions. Do note that there are specific guidelines surrounding teaming or joint ventures, so please refer to our Acquisition Management System Procurement Guidance or directly contact a contracting office listed in this document.

RECEIVE A PURCHASE CARD ORDER. The FAA annually spends over $100M using purchase cards. While most purchase card transactions are for commercial-type supplies and equipment, a growing number of orders are for commercial services. Purchase card holders are located throughout FAA. Purchase card transactions do not require a Contracting Officer, although some cardholders are Contracting Officers and place orders themselves.
RECEIVE A SET-ASIDE CONTRACT. As a part of the Government-wide effort to develop new businesses, we may reserve certain planned contracts for small business. Subcategories of small business that may be set-aside include:
Small Business
Service-Disabled Veteran-Owned Small Business
Small Business Owned and Controlled by Socially and Economically Disadvantaged Individuals (8(a) certified).
In awarding these contracts, we can restrict competition to a particular category of small business. Up to two categories may also be combined for a Combined Set-Aside. Small business development staff listed below can help explain set-aside requirements and potential opportunities.
GET ON A FEDERAL SUPPLY SCHEDULE. The General Services Administration (GSA) administers the Federal Supply Schedule (FSS) program. The schedules allow agencies to buy commonly used supplies and services in varying quantities at lower prices while obtaining discounts associated with volume buying. After a competitive solicitation, GSA awards these contracts committing firms to provide supplies and services at stated prices, without specifying quantities or delivery schedules, for given periods of time. GSA publishes the information needed for placing delivery orders against the schedule contracts. You can find additional information from your local GSA office.
SUBMIT AN UNSOLICITED PROPOSAL. An unsolicited proposal is a written proposal for a new or innovative idea submitted to FAA for the purpose of obtaining a contract. An unsolicited proposal is not in response to a request for proposals, screening information request, or any other FAA-initiated solicitation or program. It must be innovative and unique; independently originated and developed, without FAA's supervision, endorsement, direction, or direct involvement; include sufficient detail to permit a determination that FAA support could be worthwhile and the proposed work could benefit FAA's mission; and not be an advance proposal for a known FAA requirement that can be acquired by competitive methods. Three copies of any unsolicited proposal are required, and should be submitted to:
Federal Aviation Federal Aviation Administration
Acquisition Policy and Oversight (AAP-100)
Attn: Unsolicited Proposal Coordinator
800 Independence Avenue, SW., Room 400W
Washington, DC 20591

Our Acquisition Management System Procurement Guidance contains additional information about the unsolicited proposal process.

The mission of FAA is to provide the safest, most efficient aerospace system. If your unsolicited proposal does not fall under our mission and instead deals with domestic aviation security, we recommend sending your ideas directly to the Transportation Security Administration (TSA) at:

TSA Headquarters
Office of Acquisition
Attn: Unsolicited Proposal Coordinator
701 South 12th Street, 5th Floor
Arlington, VA 22202
GET ON A QUALIFIED VENDORS LIST. We use qualified vendors lists (QVL) to establish a pool of vendors who meet our qualifications for certain categories of work. Companies get on the lists by responding to our QVL advertisements and demonstrating they meet the minimum requirements. Once we establish a list and have work that fits in the category, we may solicit offers solely from the firms on the list. We use QVLs for both supplies and services.

PROGRAMS
MENTOR/PROTÉGÉ PROGRAM. We designed the FAA Mentor-Protégé Program to encourage large, established firms to assist smaller ones on an FAA contract. Small Businesses, Small Socially and Economically Disadvantaged Businesses, Historically Black Colleges and Universities, Minority Institutions, Service-Disabled Veteran-Owned Small Businesses and Women-Owned Small Businesses are eligible. Our aim is to foster long-term business relationships between large and small firms, and to increase the overall number of firms capable of doing business with us. You can get complete information on this program from our Small Business Office, online at: Mentor Protégé Program Guide
ELECTRONIC FAA AND SIMPLIFIED TASKS (eFAST). The FAA entered into master ordering agreements (MOA) with multiple small businesses, including women-owned, 8(a)-certified, service-disabled veteran-owned, and socially and economically disadvantaged businesses, to provide comprehensive management, engineering and technical support services. To access the FAA eFAST MOA Holders List please click here. The eFAST program is a multi-year MOA program and a preferred contracting vehicle for fulfilling our small business goals.
RECEIVE A RESEARCH GRANT. The FAA Technical Center in Atlantic ity, New Jersey operates our research grants program. Grants are generally awarded for research, and unlike contracts, which require the delivery of a specific product, have flexibility to allow the recipient freedom to explore research concepts that provide the most innovative results. More on the FAA Aviation Research and Development Grants Program.
SMALL BUSINESS INNOVATION RESEARCH (SBIR). The statutory purpose of the SBIR Program is to strengthen the role of innovative small business concerns in Federally-funded research, and research and development (R/R&D). The SBIR Program is a phased process, uniform throughout the Federal Government, of soliciting proposals and awarding funding agreements for R/R&D to meet stated agency needs or missions. The Department of Transportation's Volpe Center directs DOT's SBIR Program and all activities required under the SBIR law and execute the policy established by the Small Business Administration.
DISADVANTAGED BUSINESS ENTERPRISE (DBE) The Department of Transportation's (DOT) Disadvantaged Business Enterprise (DBE) program is implemented by recipients of DOT Federal Financial Assistance. Recipients are primarily state highway, transit, and airport agencies that receive funds subject to Title 49 Code of Federal Regulations part 26 (49 CFR 26). A similar program (49 CFR 23) for airport concession DBEs (ACDBE), is mandated by 49 U.S.C. 47107(e). The ACDBE program was originally enacted in 1987 and most recently amended in 2012. You can get complete information on this program online at Civil Rights DBE/ACDBE.